Submitted by

olmbrian

on Tue, 06/12/2018 - 17:02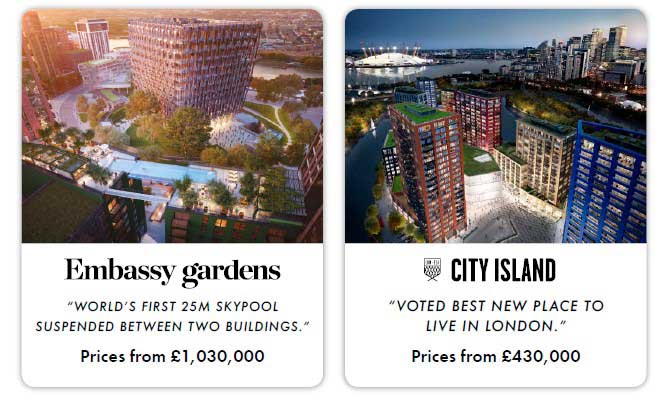 ABOUT BALLYMORE
Ballymore is one of the largest private property developers in Europe and a leader in urban regeneration. The company has been responsible for many of London's major regeneration and legacy projects. Sean Mulryan, Founder, Chairman & Group CEO of Ballymore Group said "We are proud of our reputation for bringing new large-scale projects into London in a way that responds to the local area, to create stunning developments that will be cherished by those who use them. Built developments mean nothing if they don't in some way improve, enrich or enhance people's lives. We never forget that we're building for people; if anything can be said to characterise a Ballymore development, it would be its human dimension." Developments of note include Embassy Gardens, Pan Peninsula, 21 Wapping Lane, New Providence Wharf, High Point Village and Mastmaker Road.
THE DEVELOPMENT
Embassy Gardens comprises approximately 15 acres and will deliver up to 2,000 new homes plus office and flexible work space, new leisure facilities, 130,000 ft2 of retail, bar and restaurant space including a new Waitrose supermarket. Phase one comprises 3 buildings and approximately 600 units.
Ambassador and Capital Buildings within Phase 1 are set to be completed by 2016 and will be home to the leisure club and Waitrose.
Completion for the Legacy Buildings is estimated for 2019.
THE APARTMENTS
Step into the Legacy Buildings and you are met with features and furnishings of a quality rarely seen. Under the commanding vision of Luis Bustamente, a supremely stylish and comfortable environment has been created where every convenience and comfort has been considered.
Bathrooms and kitchens boast fittings of polished steel, porcelain tiles hand crafted in Spain, marble worktops and antique-finished granite flooring.
Furniture is crafted from materials such as bronzed oak, corian and stone; upholstery is luxurious in leather and richly woven fabrics; light is expertly cast through fittings of black granite with an inner copper glow.
Residents can make use of the following;
Eg:le Club
As befits an area which is home to diplomats, the Eg:le Club is the quintessential private residents' club; offering a stunning lifestyle and a beautiful environment in which to work, relax and entertain.
Grand Foyer
In the splendid foyer our concierge staff are at your disposal day and night, attending to all your needs from parking, post and parcel deliveries to booking facilities. Every single member of the team has been carefully chosen, and their performance is judged according to the highest standards of hospitality.
Rooftop Bar
Delicate orange trees surround this graceful bar which commands breathtaking views, the perfect spot to entertain or unwind.
Sky Pool
Swim in the sky in the stunning sky pool which 'floats' from the rooftop terrace of the Eg:le Club to the Legacy Building. The only 'aqua bridge' of its kind, it's a world first, providing an elevation of experience so fitting in Embassy Gardens.
Library
In the tradition of London's best clubs, the Eg:le Club offers you the use of a private library and lounge, each a haven of peace and quiet.
Private Gym
With a yoga studio, a boxing ring and high-quality equipment, the gym offers unrestricted access so you can start your day with a workout or come home to re-energise.
Business Centre
Dedicated workstations offer the perfect spot to 'touch down' with your laptop, or invite clients or colleagues to a meeting in one of two dedicated meeting rooms.
Health Spa
Features a 16-metre indoor/outdoor pool, steam room and sauna, tanning and treatment rooms and a yoga and dance studio. Fully trained staff are on hand 24/7.
Eg:le Apartment
An exclusive area with a view over the landscaped gardens. Available for private functions: an ideal spot to meet friends and neighbours.
Lounge
The lounge is the perfect space for meeting guests for an early evening cocktail or simply to enjoy reading the newspapers over a cup of coffee.
Cinema
A private viewing space to watch movies & sports events, or even view presentations as an extension of the Business Centre. With surround sound, HD projection and plush reclining seats.
Café and Bar
A place to relax or meet friends, by day or by night, the sophisticated Embassy Gardens cafe and bar is an extension of your home.
"WANDER PAST THE GREEN GLAZE BRICKS, BENEATH THE AZURE POOL IN THE SKY,
THROUGH THE LUSH RAVINE AND INTO THE STATELY ARMS OF THE LOBBY."
YOU ARE HOME.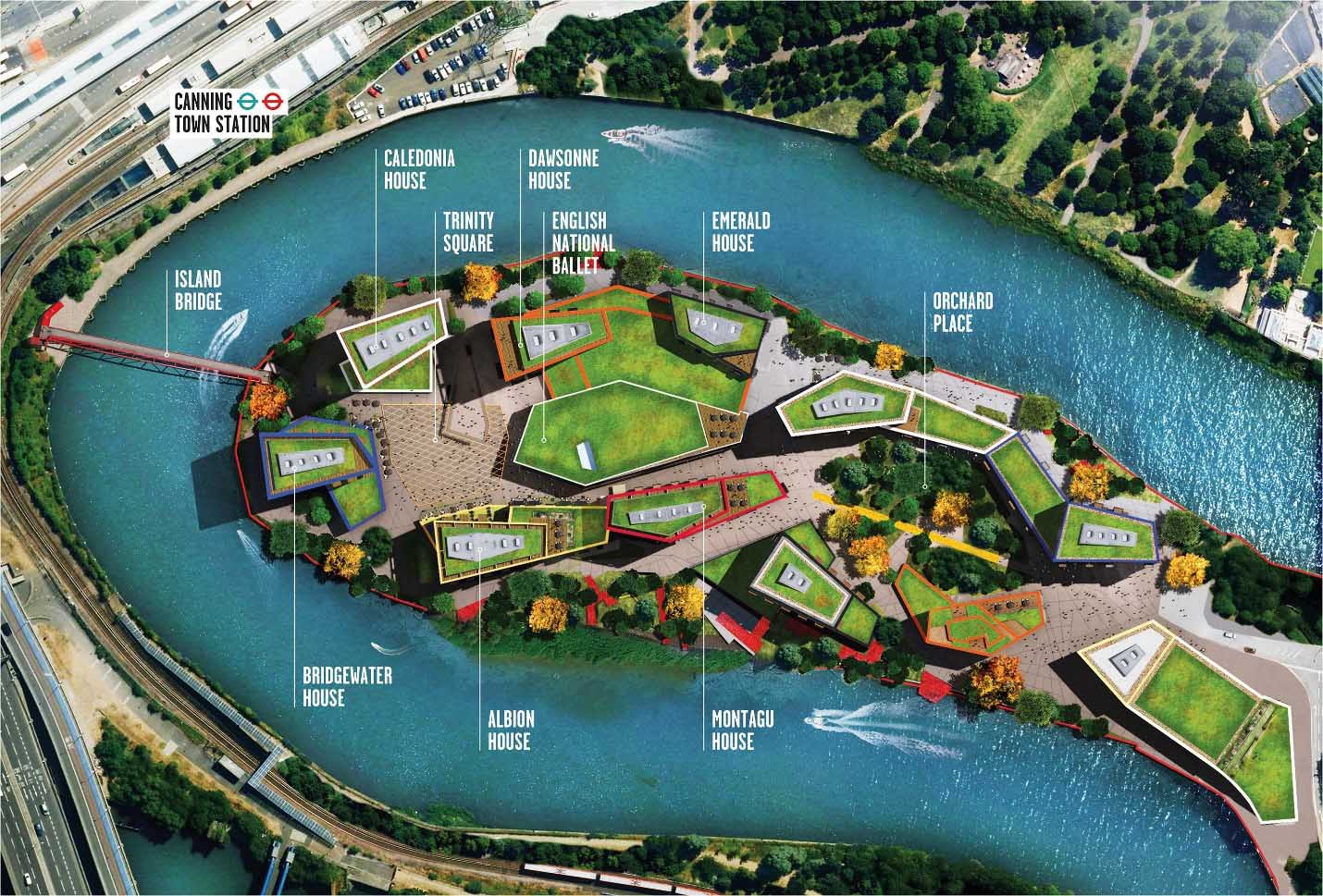 THE DEVELOPMENT
London City Island is unique new riverside development and 12 acre neighbourhood - creating a 'mini-Manhattan' - in Leamouth, London. Due for completion in 2016, it is adjacent to London's most exciting creative and commercial districts. City Island will be a dramatic new cityscape, rising at the point where the Thames meets the River Lea and set against stunning views of Canary Wharf and the City of London's iconic skyscrapers. It will see the creation of 1,700 new apartments, stunning al fresco spaces, waterside parks, vibrant new bars and restaurants, artist studios, boutique shops, school and exceptional private residents' club.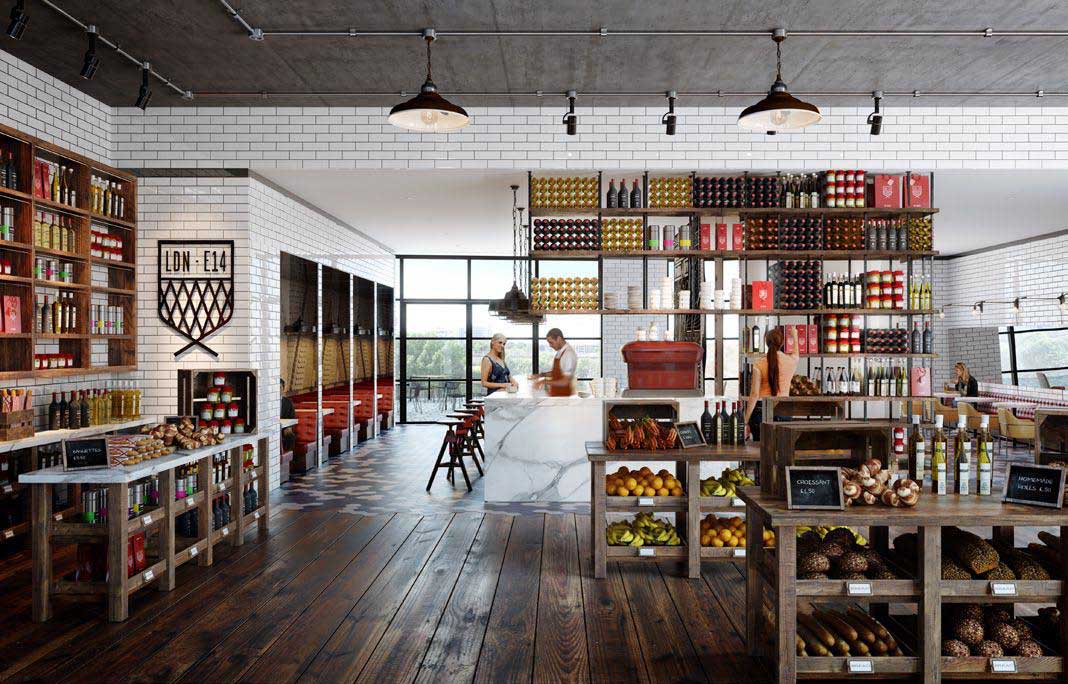 RESIDENTS' FACILITIES
--Spectacular private leisure club, with gymnasium, heated outdoor swimming pool and spa
--City Island private residents' lounge
--The Grocer
--Cafe/restaurant
--Stunning landscaping
City Island is a unique and exciting undeveloped piece of riverside real estate in London.
--The delivery of the footbridge will make City Island one of the best connected development sites in London with a 2 minute walk to its very own Jubilee Line and DLR station at Canning Town. 20 minutes to Bond Street, 15 to Westminster. The easy access to the Jubilee means one stop to the world's most successful music venue at the O2 and two stops to Europe's largest retail centre, Westfield at Stratford and Queen Elizabeth Park.
--The recent acquisition by Chinese developer ABP (Advance Business Parks) of 35 acres of land adjacent to City Airport at Albert Docks is a major coup for London with the Mayor Boris Johnson stating the multi-billion investment will make this location London's third financial centre. ABP in a JV with Stanhope is looking to bring the top Chinese companies to locate their European headquarters to this location.
--The collaboration with Eric Reynolds, who together with Ballymore at the early stages of Spitalfields Market helped create its reputation of bringing local creative and fashion house to the location . Spitalfields was voted one of London's best visitor attractions. Eric will again work with Ballymore to deliver the arts and creative element within the Island to attract visitors and therefore retail end users.
--The architecture, landscape and interior design together with Ballymore's excellent reputation for delivery of projects across London.
--Put all of the above together and the unique ability to buy a piece of real estate on an Island location makes this one of the most talked about launches of 2013.
Event details:
Date:
23 - 24 June 2018, 11am - 7pm
Venue:
InterContinental Sanlitun Hotel, No.1 Sanlitun, Chaoyang District
Date:
7 July 2018, 1:30pm - 6:00pm
Venue:
Changsha Hall, 3rd Floor, Changsha Wenhua Wanda Hotel
Date:
14 July 2018, 1:30pm - 6:00pm
Venue:
Orchid Hall, 7th Floor, Shenzhen Four Seasons Hotel
Venue:
Tianjin Four Season Hotel Orchid&Plum Hall